It seems standard practice for people attempting to break down this game to address each offense vs. each defense and to compare the two QBs almost as if they're opposing each other in a game of chess. Here's my take on this Super Bowl Matchup.
Steelers Offense
VS.
Packers Defense
The Steelers entered this season with eyes on the O-line as being a weakness. The O-line was hurt in the AFC Conference Championship when Pro Bowl Center
Maurkice Pouncey suffered an ankle injury
that would later knock him out of the Super Bowl.
Clay Matthews
and the rest of
Dom Capers
zone blitzing defense will be very active and attacking Ben in well disguised schemes. Something not mentioned often is Rashard Mendenhall's ability to grind away at a defense and the frequency with which he's been breaking off long gains. The Packer's pro bowl defensive backfield has been mentioned often as being a problem for the Steelers receiving corps. I'm not sure if people realize that the Steelers corps, while young, is battle tested. They just took on, and beat, the Ravens and Jets defenses. Both teams have acclaimed defenses. Has anyone heard of Ed Reed, or Darrell Revis? Ward, Brown, Sanders, Randle El, and Miller are certainly up to the challenge in taking on GB.
Edge: could go either way.
Aaron Rodgers
vs.
Ben Roethlisberger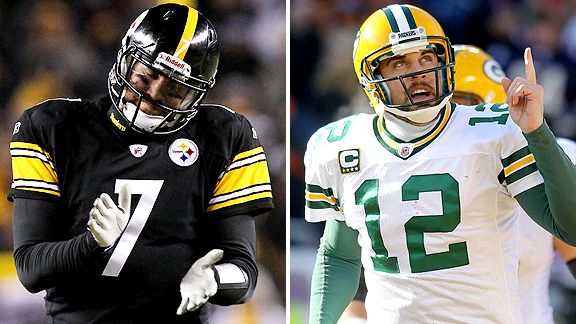 This, again is too close to call. If we were to play 7 games there might be some way to determine which is better. They will be playing one game, for a championship. In the end the determining factor, for both, will be which QB/Offense makes fewer mistakes. Mistakes is a code word for turnovers. I heard a statistic this week, in the history of the Super Bowl, the team that wins the turnover battle is 32-3, that's amazing. As good as both QBs and their offenses are, the defenses are similarly accomplished. Watching the Steelers week to week I tend to dwell on #7s mistakes. I'd say that Ben has had the shakier record in turnovers. Similarly, the Steelers defense coaxes Interceptions and Fumbles from the league's best QBs.
EDGE: Lady luck will play a large role in determining this one.
GB offense
vs.
PIT defense
.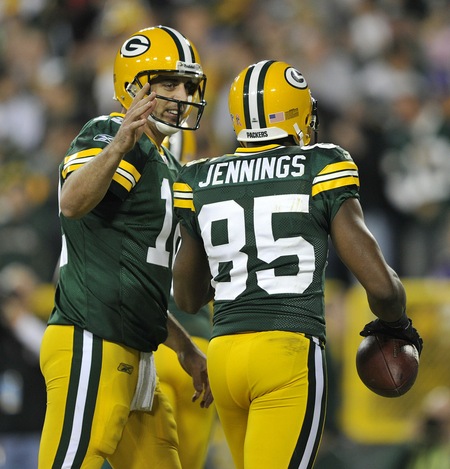 Aaron Rodgers is one of the leagues best QBs and his WR corps is recognized by many experts to be the single best group of Receivers in the league. Dick Lebeau must find a way to overcome the Packs ability to spread his defense. Watching what the Patriots' Brady did when spreading out the Steelers defense and throwing underneath leaves a fan a bit concerned. There's two ways to see this. One: it's something that Lebeau will correct or two: Steelers personnel can not overcome the spread.
Edge: Looks from the outside like the Pack has the advantage.
Intangibles: Everything I've written thus far was to get to this point. Both teams have great personnel and both teams defenses pressure their opponent's offense to make mistakes and turnover the ball.
The format that I've employed here is similar to everything that I've seen on the NFL television network as well as on ESPN this week. In the end resolve, determination, preparation, and focus are among the strongest determinants of success in games like this. In watching press conferences this week I'm most impressed by Mike Tomlin. He seems very in touch with his team, and knows how to coax their best performances from them.
Football is not Eleven one-on-one matchups. Football is a team sport. Cohesion, when two teams are evenly matched, becomes a real entity. The Steelers experience is not simply experience in going through the Super Bowl experience. The core of this team has been through some momentous battles. They've found ways to beat better opponents and they've found ways to overcome great obstacles. It is this element, Team cohesion, that I believe gives Pittsburgh the edge. Don't forget what they went through against Baltimore. Two turnovers in the first half and a 21-7 deficit. They fought back and won.
Edge: Tomlin and Steelers.
There is not a circumstance under which I would not pick the Steelers, they are my favorite team and I will certainly pick the
m here. What hits me is the fact that I am less anxious about this game than I was about the Steelers two previous Super Bowl appearances.
Prediction: Steelers 31 Packers 17